Support Charlie Gard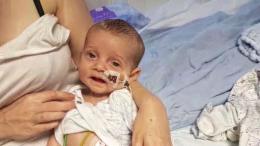 Chris Gard and Connie Yates refuse to give up on the life of their son. The United States should help them.
As you may know, 11-month-old Charlie was born with a rare genetic disorder, infantile-onset encephalomyopathic mitochondrial DNA depletion syndrome. He has been in a London hospital (Great Ormond Street Hospital) since he was 2 months old. In March, the doctors at the hospital decided there was nothing more they could do for him, and they recommended that his parents withdraw his ventilator.
His parents, Chris Gard and Connie Yates, refused. They raised over £1 million to bring Charlie to the United States for experimental treatment.
Earlier this year, however, the hospital went to the British courts to get the authority to stop further treatment. The British courts sided with the hospital. In late June, the European Court of Human Rights refused to hear the case, upholding previous court rulings that it was in Charlie's best interest to be ordered to die.
On July 5, the Vatican's children's hospital, Bambino Gesu, offered to accept Charlie and continue his life support and allow his parents to make decisions regarding his treatment. Great Ormond Street hospital declined the offer.
On July 6, a New York hospital offered to admit and evaluate Charlie to receive experimental treatment, "provided that arrangements are made to safely transfer him to our facility, legal hurdles are cleared, and we receive emergency approval from the FDA," according to a statement made to a national newspaper.
On July 7, Great Ormond Street Hospital issued a statement that it has "applied to the High Court for a fresh hearing in the case of Charlie Gard in light of claims of new evidence relating to potential treatment for his condition."
Now, Congress has chance to act. Contact Congress and tell them to support Rep. Brad Wenstrup (R-OH) and Rep. Trent Franks (R-AZ) bill to expedite Charlie's chance to receive treatment in the United States.